Mission Beach Fishing Charters with Hooked Up Fishing Adventures.
"I'm hooked up!"  The words every angler wants to hear!  From reef fish to gamefish and all species in between, our 40 years of experience will "hook you up" with the Mission Beach fishing experience of a lifetime.
Our roomy 26ft custom Sportfisher, the Spirit of Dunk, is decked out with the latest electronics – you will catch fish!  We also have the latest dynamic positioning system which will put you precisely over that school of fish or that reef outcrop and, instead of waiting to deploy 40m of anchor chain, you will be throwing a line in straight away.  You'll have more time actual fishing instead of waiting for anchoring!
Video of Half Day Island Fishing Charter.
HUGE spanish mackerel, feisty trevally and a whole lot of world class reef fish are just offshore from Mission Beach. We offer full day and half day fishing charter departing Mission Beach targeting whatever species you want including big game fish. Did you know that the game fishing off Mission Beach is on par with anywhere else in Australia BUT with a whole lot less charter boats the odds tip in your favour.
This video has us heading out on a Friday morning with Gererd at the helm a half day trip and had a blast out the back of Dunk Island. The trip included a dip in the water on one of Dunk's secluded beaches and the video doesn't really do justice to how beautiful it was. Water wasn't as clear as it could be but we could easily see coral fans and red starfish as we glided into the shallows to anchor.
Worth a visit to Mission Beach just for the fishing!  Don't forget to click the video up to full screen and full high definition – 1980×1020.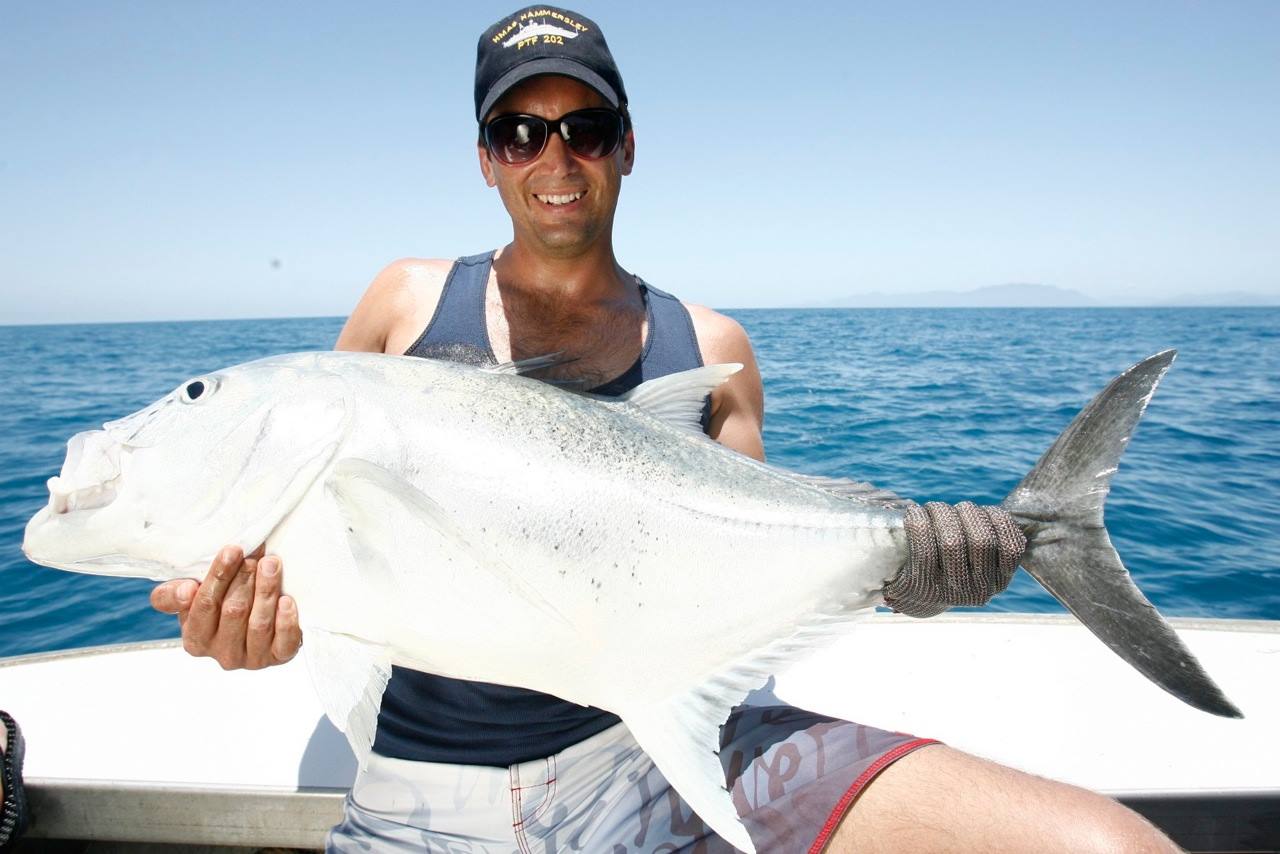 "When we were shooting Sea Patrol in the Mission Beach area Hooked Up Fishing Adventures ensured that our down time was full of fun.

Local knowledge is priceless when it comes to getting something on the end of your rod and Alister and his family run team didn't disappoint.

We were meant to be winding down but as you can see – we spent a lot of time winding up!"
Hooked Up Fishing Adventures – "Fishing Mission Beach since the 80s"
Our Boat
"Spirit of Dunk" is a custom built Geoff Glanville 7.6 metre Offshore Sportfisher, designed, engineered and built in Cairns for far northern conditions, safely handling all sea states and perfect for Mission Beach Fishing! There is plenty of room onboard, we are licensed to carry a maximum of 12 passengers around our islands, and up to 9 to the Outer Great Barrier Reef, making her great for larger groups, fantastic for private charters.
She is fast and comfortable with a 2016 model 225 Yamaha pushing her at up to 25 knots cruise (dependant on sea and wind conditions).
Be it popper , jigging  trolling or bottom fishing, her open centre console design and great stability makes her the logical choice for your offshore trip. Great visibility and her ability to manoeuvre in tight spots allows you to get up close and personal with both the fish and the reef.
"Spirit of Dunk" has new age high accuracy dynamic position technology on board, allowing us to fish, swim or snorkel without an anchor, great for your fishing/snorkelling trip, great for the reef!
She has an easy access duckboard at the stern allowing access for snorkellers/spearfishers, or just have a swim at lunch!
Fishing Mission Beach since the 80s, Hooked Up Fishing Adventures works with other charter operators to service larger groups (when timing allows), please enquire.
Mission Beach Estuary Fishing.
Calm waters and suitable for all weather conditions!

When the water isn't as blue as you'd like it to be, It's the perfect time to be fishing the estuaries!
Half day fishing trip with Hooked Up Fishing Adventures Mission Beach fishing the estuaries of the beautiful Hull River. This is a sheltered waters all weather trip targeting bream, grunter, mangrove jacks, barra and mud crabs.  Price includes morning/afternoon tea, bottled water and all estuary fishing gear.
Min 2 people, $190pp and we can pick you up from your Mission Beach accommodation.  Click and save image at right to your phone for future reference.  Phone Alister directly to confirm tides and times – 0419 756572